Welcome to Project 0G
The goal of Project 0G is not to build a single 4G63 powered Starion, but to form a community to focus the minds of individuals aiming to build other Rear Wheel Drive 4G63 turbo vehicles.
This site has a lot of info on Starion/Conquest 4G63 swaps as well as some MightyMax/D50 turbo conversions. Most of this info can be used for other applications as well. Join the discussion in the forums!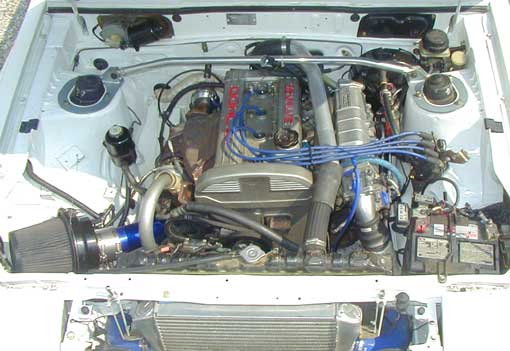 A large portion of the discussion revolves around the ideal transmission setup for certain, usually high power, applications. We have a message board and various pages on details of the swap. Read everything and join the discussion.
News: Going to SEMA
I will be attending SEMA November 1st-4th next week. I am hoping to meet some new sponsors and other interested parties that can help all of us by developing products for StarQuests and RWD 4G6x swaps.
News: We've moved!
If you're reading this you've discovered that the site has moved! The domain expired for beatingyou.com so I registered projectzerog.com so that it is in my control now. I also moved the web hosting to Dreamhost. I am working to get the site all up again and all the links fixed. I finally got the message board transfered from IPBv1.3 to phpBBv2, but luckily it went well and all the old members and posts were saved.
News: Drift Car Construction
I've been working on this race car on several levels for the last few months. It is a project in solving all of the problems that I ran into with the white car. I hope to have it finished sometime this fall. Check out more info on the drifting page.